When Silence Speaks Volumes
Companies have chosen to speak up on every issue imaginable. Now they are abstaining from condemning violence against civilians and providing public support to their Jewish employees.
Universities are losing funding from wealthy donors for failing to forcefully condemn the October 7 terrorist actions that took the lives of 1400 Israeli citizens — including babies, small children and elderly Holocaust survivors.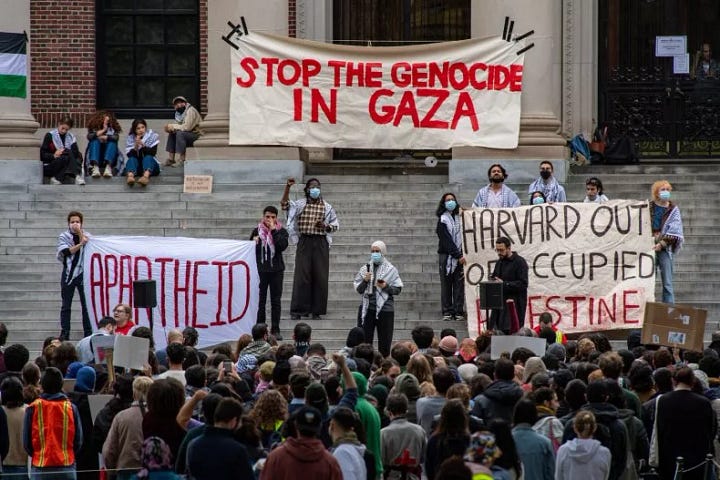 Most notably, donors have pulled funding from Harvard and University of Pennsylvania. These schools stand to lose close to $500 million from wealthy, well-known business leaders who aren't leaving quietly.
And to be clear, these universities made statements. Of moral equivocation. And the funders aren't having it.
Here is the letter sent to the Harvard Board from Les Wexner, the American billionaire/founder of Limited Brands. He writes:
We are stunned and sickened at the dismal failure of Harvard's leadership to take a clear and unequivocal stand against the barbaric murders of innocent Israeli civilians by terrorists last Saturday, the Sabbath and a festival day.
In the case of Brandeis — a university founded in 1948 as a non-sectarian Jewish institution and named after Louis Brandeis, the first Jewish person to serve as a justice on the Supreme Court — the university President issued a statement on the day of the attacks offering full-throated support of Jewish students and Israel's right to defend itself. But two weeks later, the university's student government voted down a resolution to publicly condemn Hamas and call on the terrorist organization to release the hostages. Six members of the Student Union Senate voted in favor of the resolution, and ten voted against it, with five abstaining.
What's been written about far less is the silence on the part of corporations and businesses. I'm imagining companies are seeing which way the wind is blowing with universities, and are deciding: no way. (I've been part of many decisions about how and when to weigh in on issues — I can all but guarantee this is what is happening.)
And it would be fine. I mean, what do CEOs know about the history of the conflict in the Middle East? Probably, in most cases, very little.
Except . . . these companies have had no problem denouncing every incident of bigotry and violence and commenting on every polarizing issue under the sun in the past five years.
I dare you to find a company that didn't post a black square on Instagram during the summer of 2020. Here's just a smattering from retail and apparel brands — including Nike, Aritzia, Real Real, Shein, H&M and Warby Parker — from May and June 2020.
(I'm going to focus my commentary on the fashion and beauty industries as they are the ones I know best.)
In the summer of 2020, companies made statements that included donations to organizations committed to furthering black equality while pledging to make a difference in their own organizations through hiring practices and implementation of robust DEI programs.
Keep reading with a 7-day free trial
Subscribe to Sey Everything to keep reading this post and get 7 days of free access to the full post archives.